EDIT MAIN
Breakfast & Lunch Menus
Breakfast: $1.25/day $6.25/week
Reduced: $.30/day $3.00/week
Lunch: $2.85/day $14.25/week
Reduced: $0.40/day $2.00/week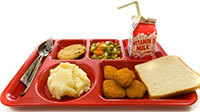 Payments can also be added to accounts through the parent portal at https://www.teacherease.com/, you have must have a current email address to be given access to the parent portal.
MENU IS SUBJECT TO CHANGE
The USDA has ruled that all public school meals are free to students until June 30, 2022.
---
Please refer to the Dining Icon on the main page to see the August menu in single day format. All breakfast meals offer Cereal and a WG Graham Cracker as an alternative to the main entree. The monthly format can also be seen on Teacherease.
Beginning September 1st, a small ala carte service will be offered during lunch. Keep in mind, ala carte items can only be purchased. They are not a part of free meals. Items offered on a cash only basis
. November/December Weekly Menu.
November
29) B-Ultimate Breakfast Bar, Fruit
L-Grilled Cheese, Cream of Potato Soup, Fruit, Crackers, 100% Fruit Juice, Condiments
30) B-Cereal & Toast, Fruit
L-PB&J, Baby Carrots, RF Chips, Craisins, Sidekick, Condiments
December
1) B-Egg Patty & Sausage on an English Muffin, Fruit Choice, Condiments
L-, Mini Corndogs, Baby Carrots, Sliced Apples, WG Grahams,
2) B-Breakfast Breaks Cereal Kit, Apple Slices
L-Roasted Turkey, Mashed Potatoes, Stuffing, Gravy, Corn, Dinner Roll, Strawberry or Chocolate Tart, Condiments
3) B-Biscuit & Sausage Gravy, Cuties
L-Chicken Nuggets, Romaine Salad, Bread, Applesauce or Pineapple, Condiments