EDIT MAIN
Breakfast & Lunch Menus
Breakfast: $1.25/day $6.25/week
Reduced: $.30/day $3.00/week
Lunch: $2.65/day $13.25/week
Reduced: $0.40/day $2.00/week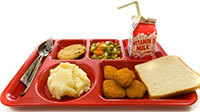 Payments can also be added to accounts through the parent portal at https://www.teacherease.com/, you have must have a current email address to be given access to the parent portal.
MENU IS SUBJECT TO CHANGE
The USDA has ruled that all public school meals are free to students until June 30, 2021.
---
Please refer to the Dining Icon on the main page to see the April menu and the upcoming May menu in single day format. All breakfast meals offer Cereal and a WG Graham Cracker as an alternative to the main entree. The monthly format can be seen on Teacherease. Please note a change in entree for April 22nd.